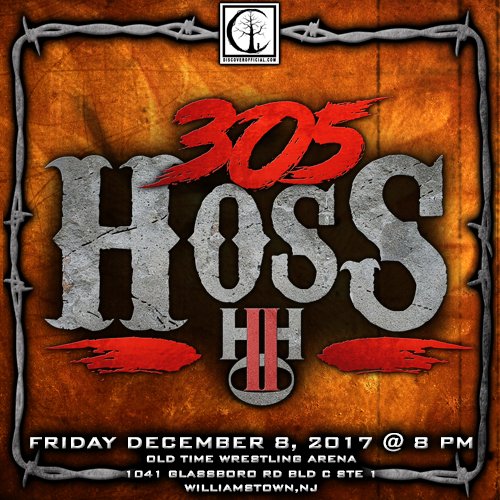 H20: HardCore HUSTLE Organization presents "HOSS", a one night/16 Man Tournament on December 8 at the Old Time Wrestling Arena (Monroe Business Center), 1041 Glassboro Road Building C/Suite 1, Williamstown, NJ.
Please bring a new, unwrapped toy when you come to HOSS as Hardcore Hustle Organization joins with the United States Marine Corps Reserves Toys for Tots campaign. Every child deserves a Christmas!
First round
Unfortunately Dan Maff and Rickey Shane Page had to pull off the event for other commitments. Both were very professional as they always are, we hope nothing but the best for them.
This left some changes to the tourney so....
RSP's spot will now be a MYSTERY Participant. We then put Stockade in Maff's spot and JOE GACY is now in the tourney and he takes Stockade's spot in his original match.
Updated first round HOSS tournament matches:
* KTB vs. Steve Mack vs. ??? vs T.J Marconi
* Ace Romero vs. Bull James vs. Maria Manic vs. Joe Gacy
* Stockade vs. Nate Carter vs. Dave McCall vs. DJ Hyde
* Brute Van Slyke vs. Bill Carr vs. Greg Excellent vs. Rex Lawless
Winners compete in a 4 way final
* DOORS of DEATH MATCH/#520 Championship
Jeff Cannonball defends the #H20 Championship vs Dan O'Hare
* #H20 HYBRID Championship
#1 Contender Mike Del takes on Champion Blackwater
Tickets:
Front Row: $25/General Admission $20. Reserve/purchase tickets by contacting Matt Tremont
Tickets all available at Bulldozer's Collectibles at Berlin
Farmers Market in Berlin,NJ
H20Wrestling.com
Facebook.com/HardcoreHustleOrg
https://twitter.com/H_2_0WRESTLING
https://www.instagram.com/hardcorehustleorg/