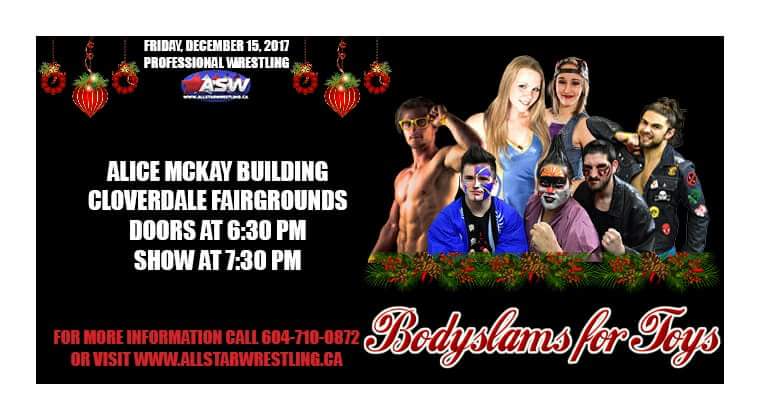 Elite Canadian Championship Wrestling presents its annual
Wrestling For Hunger show in New Westminster, BC on December
16.
DREAM MATCH:
Scotty Mac vs. Nicole Matthews
SIX MAN TAG TEAM ACTION:
The Wisemen and Mitch Mulligan vs. Artemis Spencer and Bishy
Wishy
SPECIAL CHALLENGE - NON-TITLE MATCH:
Andy "The Dreadful" Bird (ECCW Canadian Champion) vs.
Patrick Voros (ECCW Tag Team Champion)
GRUDGE MATCH:
"Ravenous" Randy Myers vs. Erik Strange
TAG TEAM ACTION:
Beauty and the Builds (ECCW Champion Daniel Adonis and Nick
Price) vs. Re:Loaded (Shareef Morrow and Jacky Lee)
PLUS:
GraviTeam (Steve West and Xavier Galaxy) vs. Danni Deeds &
T-Rex
Ladies Choice vs. Shreddz
**CARD SUBJECT TO CHANGE**
CHRISTMAS RAFFLE FOR TICKETS TO BALLROOM BRAWL IX AND OTHER
GREAT PRIZES!!! To enter, bring a blanket, non-perishable
food item or unopened toy.
TICKETS:
Front Row $24
General $20
Doors open at 7pm
Show starts at 7:30pm