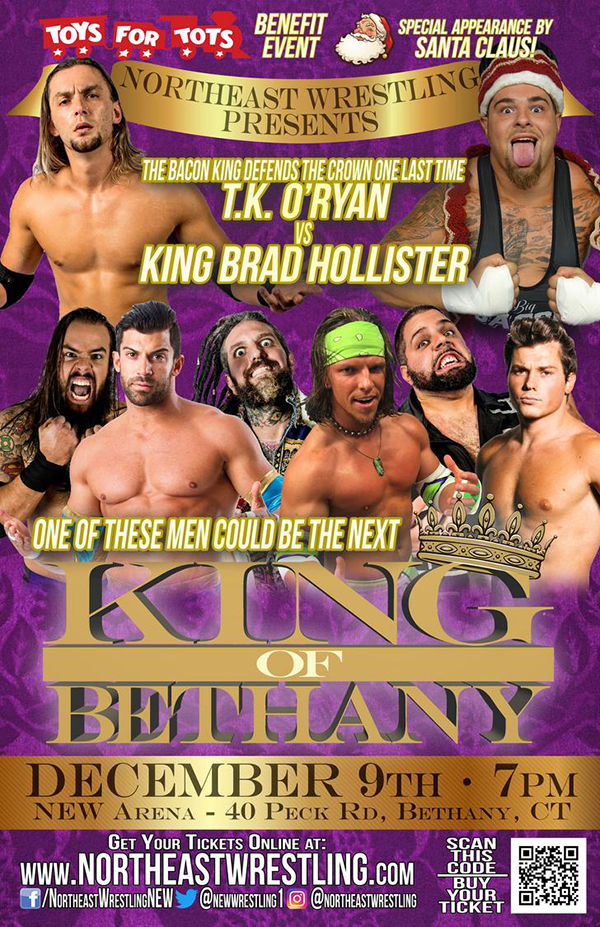 Northeast Wrestling returns to the NEW Arena 40 Peck Road,
Bethany, Connecticut on Saturday, December 9th - 7pm.
A HUGE Main Event has been signed for our return to the NEW
Arena:
King Brad Hollister defends the Crown for the very last time
against a man that many Northeast Wrestling fans at the NEW
Arena consider the unofficial King of Bethany - Current Tag
Team Champion and former NEW Champion - TK O'Ryan. The crown
will be on the line and if Brad Hollister wins the
NEW Title on Dec. 1st in Waterbury, Connecticut at Holiday
Havoc - The NEW Title will also be on the line.
See this battle between former best friends and tag team
partners.
This is a MEGA event that you don't want to miss.
It is the 22nd Anniversary of our first event in Montgomery,
NY on Dec. 9, 1995.
The show will feature the Annual King of Bethany Tournament.
Already announced to compete to see who the NEW King will be
include:
3 Time NEW Champion Brian Anthony
NEW Tag Team Champion Vinny Marseglia
Robbie E
Wrecking Ball Legursky
Josh Briggs
Cameron Zagami
2 Other superstars to be announced.
Plus
Vik Hale - Hale Collins and Vik Dalishus take on The Dredded
Dead Ron Zombie and Bull Dredd
The Battle Brothers face Adrenlaine Rush
A Special Appearance by Santa Claus and his Elves.
This is also our annual holiday spectacular and a Toys for
Tots - Fundraising event. The Marines will be in attendance
that day.
We ask all of our fans to help those in need to bring an
unwrapped toy and support Toys for Tots this holiday season.
Tickets start at only $15 and are going fast pick up yours
now at www.northeastwrestling.com or at the door on
Saturday, December 9th.